My dad has a remarkable capacity for patience and is always willing to be silly to get a laugh. This short essay about spending a meaningful afternoon together on a semi-ridiculous task appears in my first cookbook Well Fed. —Mel

I didn't have much mad money when I was a student at Syracuse University. My parents generously paid for school, clothes, books, and other essentials, and I had a work-study job to keep me stocked up on beer and non-dining hall food. So I had plenty for which to be grateful, and I satisfied my book lust at the library.
When I moved into my own apartment, I went through an Italian cooking phase that taught me how to make homemade pesto and tomato, basil, and mozzarella salad; a Thai phase that required a trip to the Asian grocer for fresh lemongrass and other ingredients to make curry paste from scratch (My advice? Just buy the damn paste in a jar and make everything else yourself); and an 'I should eat beans instead of meat' phase.
On one trip to the library, I discovered Middle Eastern Cooking by Rose Dosti. Because of my dad's heritage, I grew up eating hummus, stuffed grape leaves, and lamb kabobs. I had my dad's recipes for all of those things written on index cards in my kitchen cabinet. Dosti's cookbook expanded my repertoire with 192 pages of Greek, Arabic, Israeli, and North African recipes. I loved that cookbook so much that I wanted to buy it, but it was impossible to find a copy in the pre-internet world.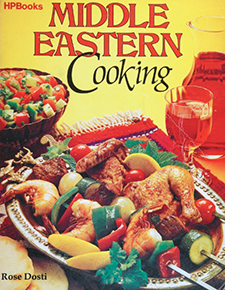 The solution to the problem appeared when my dad visited one weekend. The two of us went to Kinko's (a now-extinct chain of copy shops) and obsessively photocopied the whole thing. It took a long time — hours — and we chatted and laughed while we plunked the book down on the glass, over and over, oohing and aahing at each recipe, and playing our family game 'You Know How You Could Do That?' That's when we make up new variations for the recipe on the fly with imaginative ingredients.
I bought a bright yellow cardboard expandable report cover to hold the pages. That bootlegged cookbook traveled with me from Syracuse to an apartment in Escondido, California, to a houseboat in Sausalito, to an apartment in San Francisco, and finally, to a duplex and our house here in Austin. Eventually, I found an original copy of the book, but I couldn't bear to toss the photocopied version. I keep them both – side by side – on the bookshelf.
I've made the baba ghanoush and tahini dressing so often that I don't need the cookbook to make them anymore. But every few months, I pull out Middle Eastern Cooking to make spiced olives or to drool over photos of a decadent Chicken Bastila (chicken, ground almonds, and cinnamon baked inside buttered phyllo dough and sprinkled with powdered sugar. I mean, really.). And I remember Dad and me, talking about nothing in particular, while we broke several copyright laws for the pleasure of spending time together and daydreaming about food from the old country.
Heads up! This book is out of print but is sold on Amazon and is free to read on the Internet Archive.
Top image courtesy of Unsplash+.