newsletters and social media
We like to talk about books, and you like to talk about books, so let's do it together.
1. Newsletters
Get all the best stuff from Strong Sense of Place delivered directly to your inbox.
A. The Weekly: book recommendations, travel tips, photography, stories, and other fun stuff that's only available to subscribers. Sent on Fridays. (See an example.)

B. The (almost) Daily: a quick notification of new blog posts. Super-short, sent on weekdays. (See an example.)
When you subscribe, we'll send you The 2020 Reading Atlas, 30 pages of book recommendations and travel inspiration — the first 100 people who sign up for our newsletter will receive a handwritten postcard from Prague. Real mail!
2. Instagram
We share David's original illustrations, book recommendations, photos from our travels, and good eats almost every day. Follow us on Instagram.
This is our favorite way to share quick hits of the stuff that's delighting and/or confounding us. Follow us on Twitter.
4. Pinterest
We pin beautiful and interesting book- and travel-related goodies. Follow us on Pinterest.
RSS? Yes, nerd friends. Absolutely. Get the feed.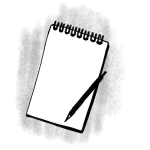 sharing is caring!
Wanna help us spread the word? If you like this page, please share with your friends.