The right book can instantly transport you to anywhere — and anytime — in the world. Every Thursday, we recommend one of our favorite books with a strong sense of place so you can see the sights, meet remarkable people, go on exciting adventures, and feel big feelings. Bonus: You don't even have to put on pants.
This post is part of our 'Weekend Getaway' series.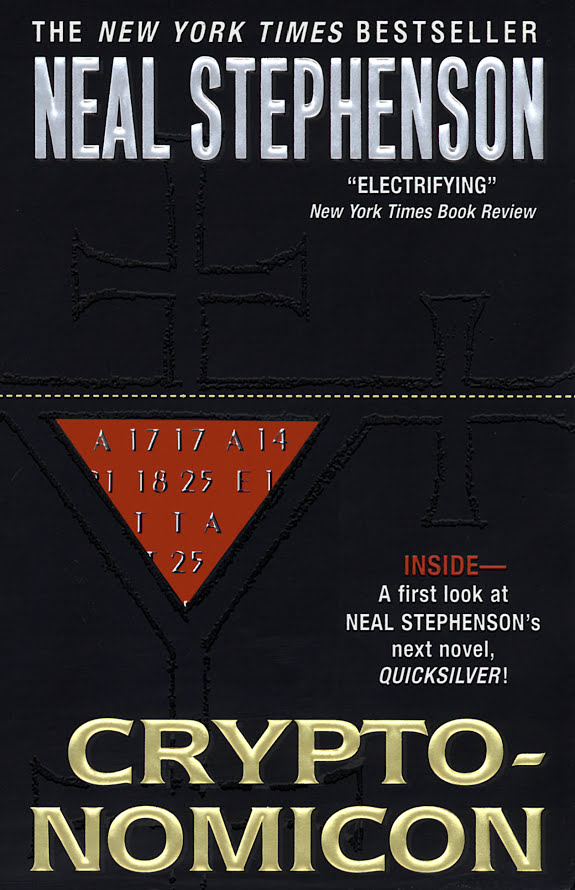 This weekend, dive into a Dickensian novel that deftly weaves two timelines — one in WWII, the other in 1990s Silicon Valley — to tell a tale of adventure, intrigue, the Enigma code, technology, and the search for lost gold.
The story opens with a haiku-writing U.S. Marine and continues to blast preconceptions and clichés for the next 900+ pages. In the WWII storyline, a determined group of cryptographers is desperate to break Germany's enigma code without letting the Germans find out. In the '90s thread, the descendants of those WWII heroes are at work on an underground data haven to protect encrypted data and, ultimately, to prevent the horrors of the Holocaust from ever being repeated.
But that's only partially what this expansive story is about.
At its core, it's a high-stakes adventure and a tale of family, both biological and found. The primary characters (particularly the U.S. Navy codebreaker/math genius Lawrence Waterhouse and his grandson Randy, a computer hacker) are too smart for their own good, endearingly awkward, and decent, without being bland or perfect. They're surrounded by a large cast of distinctive personalities that feel remarkably like real people: contradictory, annoying, loveable, well-meaning, and fallible. Along the way, there are also pitch-perfect cameos from Alan Turing, Ronald Reagan, Herman Goering, Admiral Yamamoto, Albert Einstein, and Douglas MacArthur.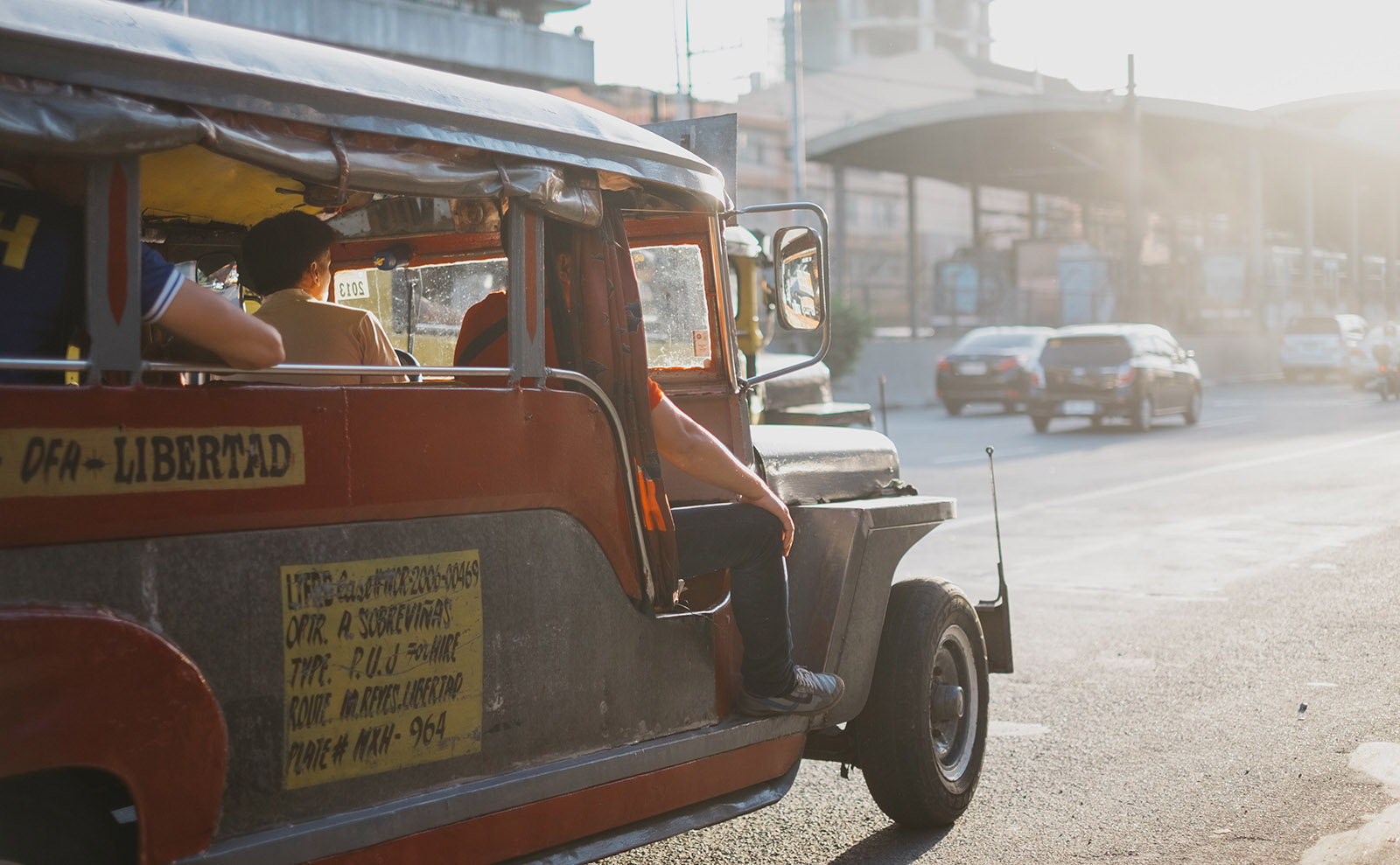 Stephenson spools out the primary plot threads with plenty of propulsive energy. But he also allows the time for side trips to explore the ideal way to eat Cap'n Crunch cereal, Bach's organ music, one character's hobbit-like characteristics, and other daydreamy meanderings. The pace is, paradoxically, both page-turning and leisurely; it's a rewarding indulgence to spend time with these characters. As the story travels back and forth in time, it takes us around the globe, from Princeton University and San Francisco to the Philippines, Japan, and Bletchley Park.
This novel is routinely characterized as speculative fiction, but if that's not your thing, don't let the label put you off. We'd classify it as a mashup of historical fiction and techno-thriller. It fluidly incorporates intrigue and double-crosses; bracing battle scenes; the tenderness and frustration of dear friends; computer science and cryptography and mathematics; jungle adventure; tenderly and humorously wrought romance; a hidden cache of war gold; and a whiz-bang ending.
Pro tip: There are a few passages that are dense with details about math and cryptography. If this your jam, enjoy every word. If it's not, you can skim without losing anything from the story.
There's a bed, a little fold-out table, and cabinets made of actual wood. These in combination with the photographs of family and friends give it a cozy, domestic flavor which is, however, completely ruined by the framed picture of Adolf Hitler on the wall. Waterhouse finds this to be shockingly poor taste until he remembers it's a German boat. — Neal Stephenson
This technothriller with heart (928 pages) was published in May of 2000 by William Morrow. The book takes you to Philippines, England, and Silicon Valley. Melissa read Cryptonomicon and loved it; it wouldn't be on our site if she didn't recommend it.
Bookshop.org is an online bookstore with a mission to financially support independent bookstores and give back to the book community.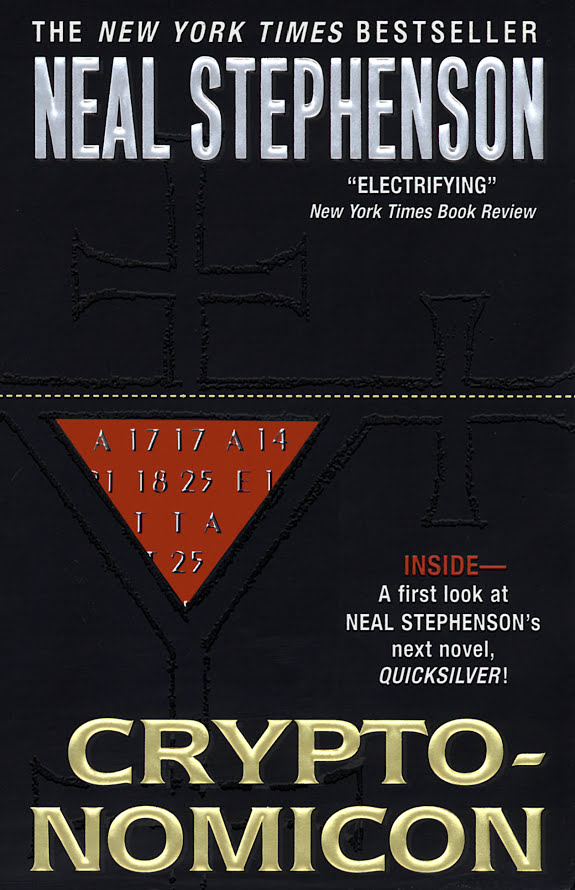 Top image courtesy of Eutah Mizushima/Unsplash.