The Municipal Library of Prague (Městská knihovna v Praze) is close to the city center, and it's a diverting place to escape the crush of Old Town and relax in the serenity of bookland.

For locals, the library is a cultural center with book clubs, author talks, concerts, films, and storytelling classes. But visitors from far-flung locales are invited to step inside and enjoy this shrine to knowledge, too.
The lobby entrance features a book sculpture called Idiom. Created by Slovak artist Matej Krén in 1998, it combines 8000 interlaced books and mirrors to create a seemingly infinite spire of books. A tear-shaped opening in the side allows you to take a stirring look inside the tower.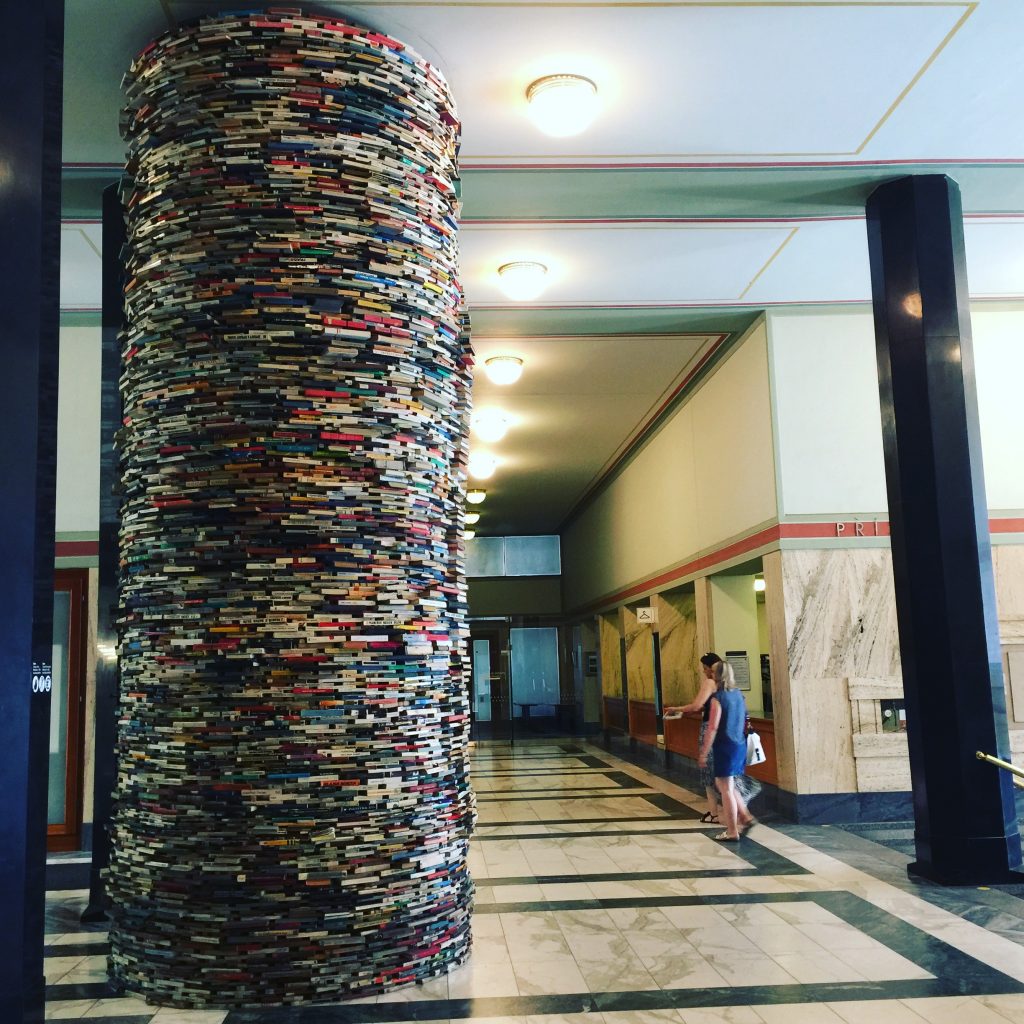 Looking up inside the tower…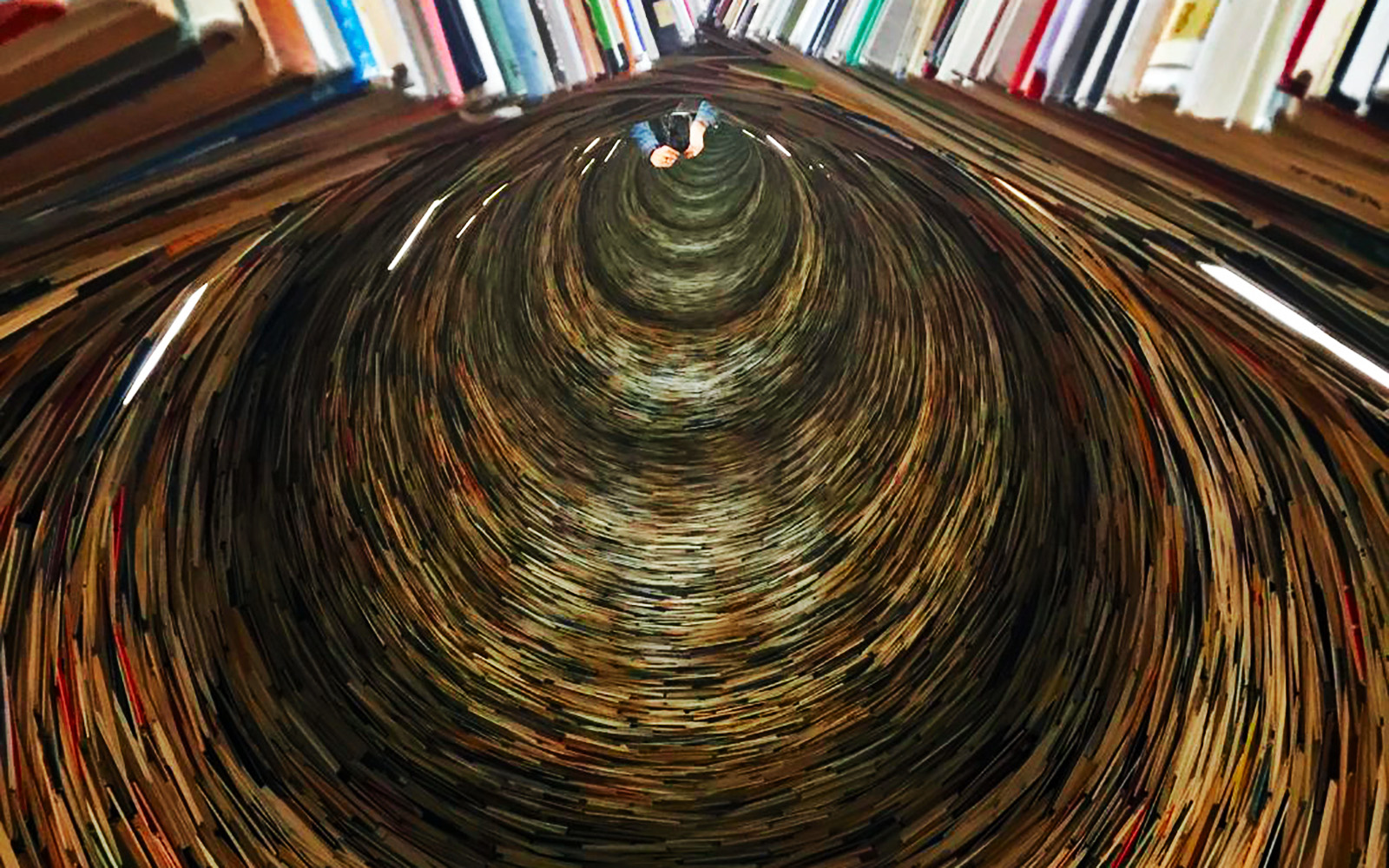 Looking down…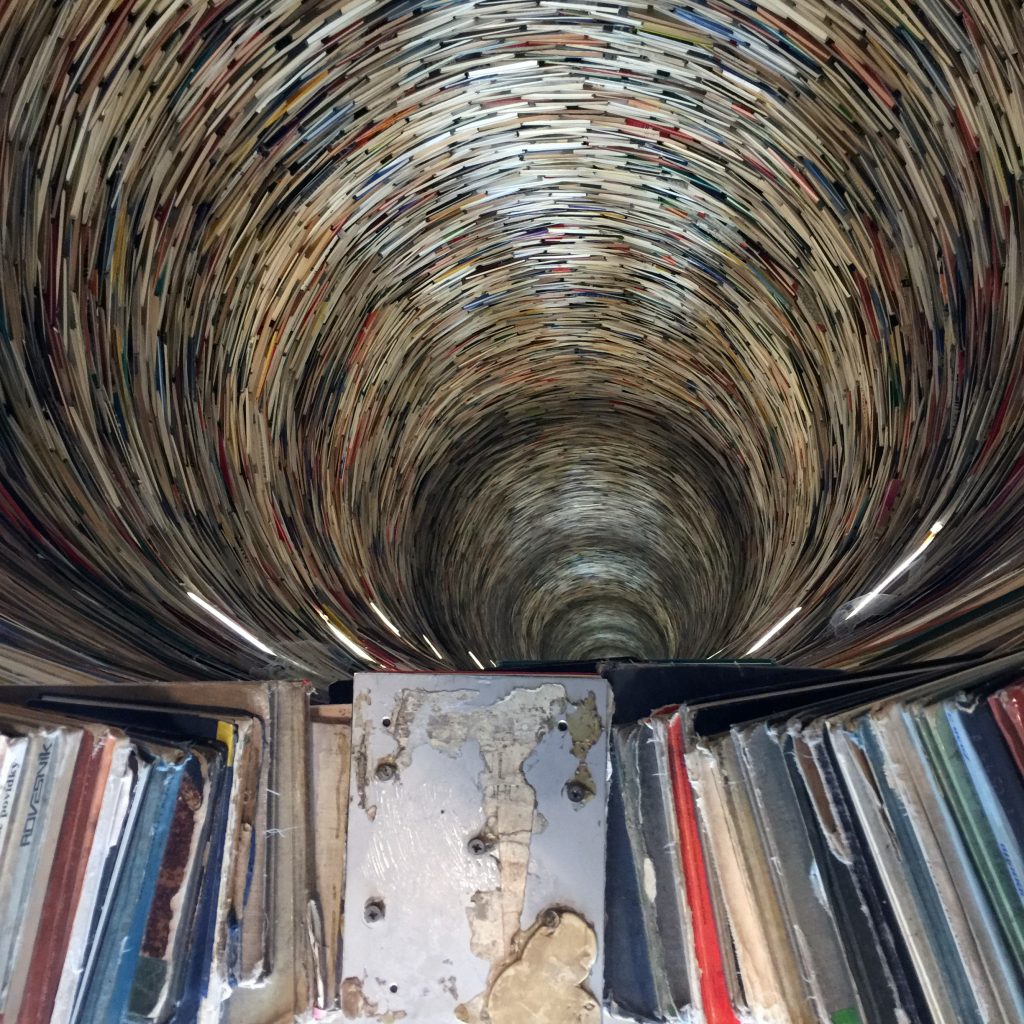 From the outside, the books are like bricks (steadfast) and reeds (pliable) that are interlaced to form a woven wall of words.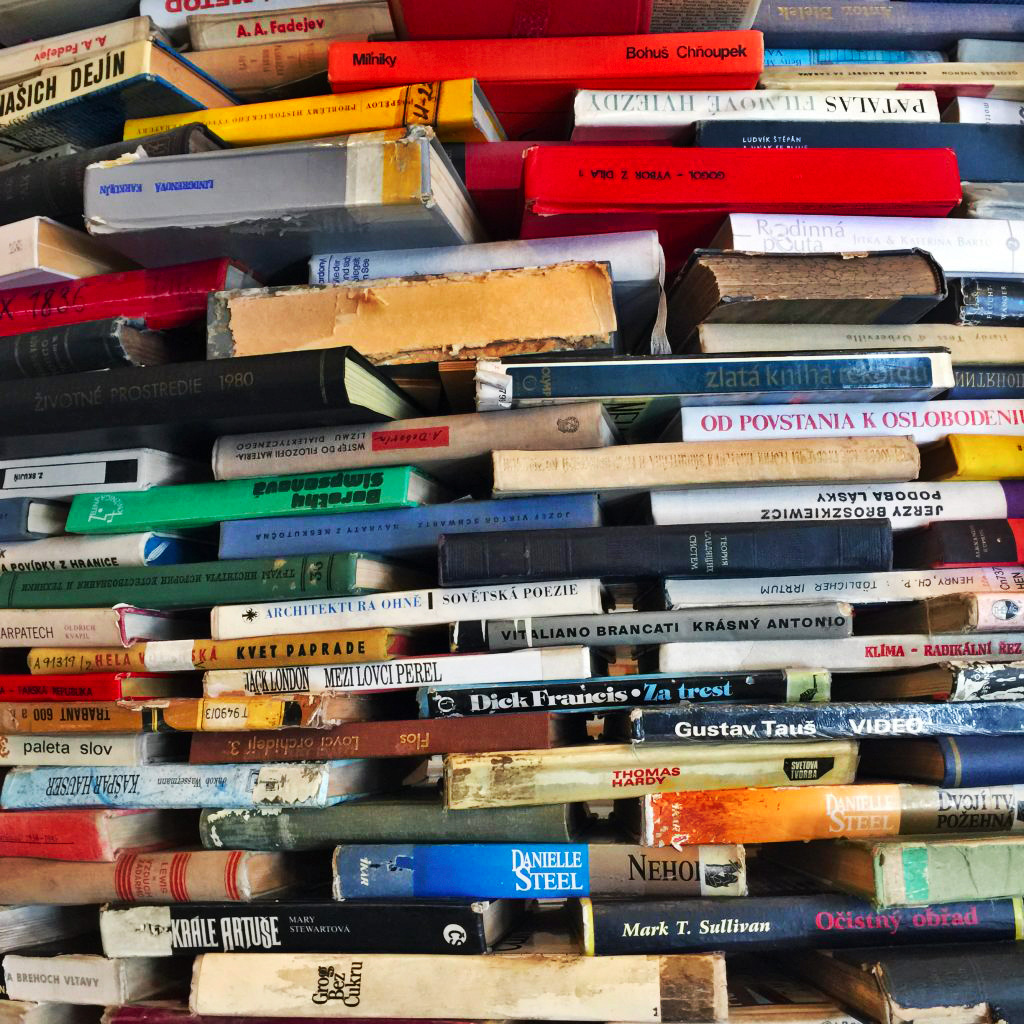 Another charming surprise: This Wes Anderson-inspired piano room. Library card holders can borrow music, plug headphones into the electric piano, and tickle the ivories right here in the library.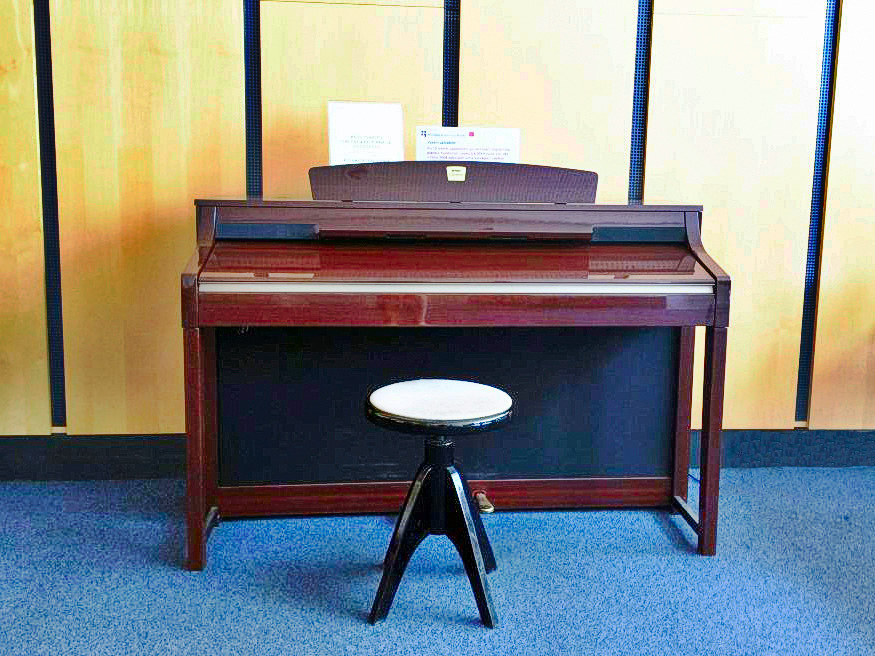 We were also pretty thrilled to see that the Prague library system includes 10 copies of our cookbook in Czech — Dobře živeni, a.k.a., Well Fed: Paleo Recipes for People Who Love to Eat. Výborné!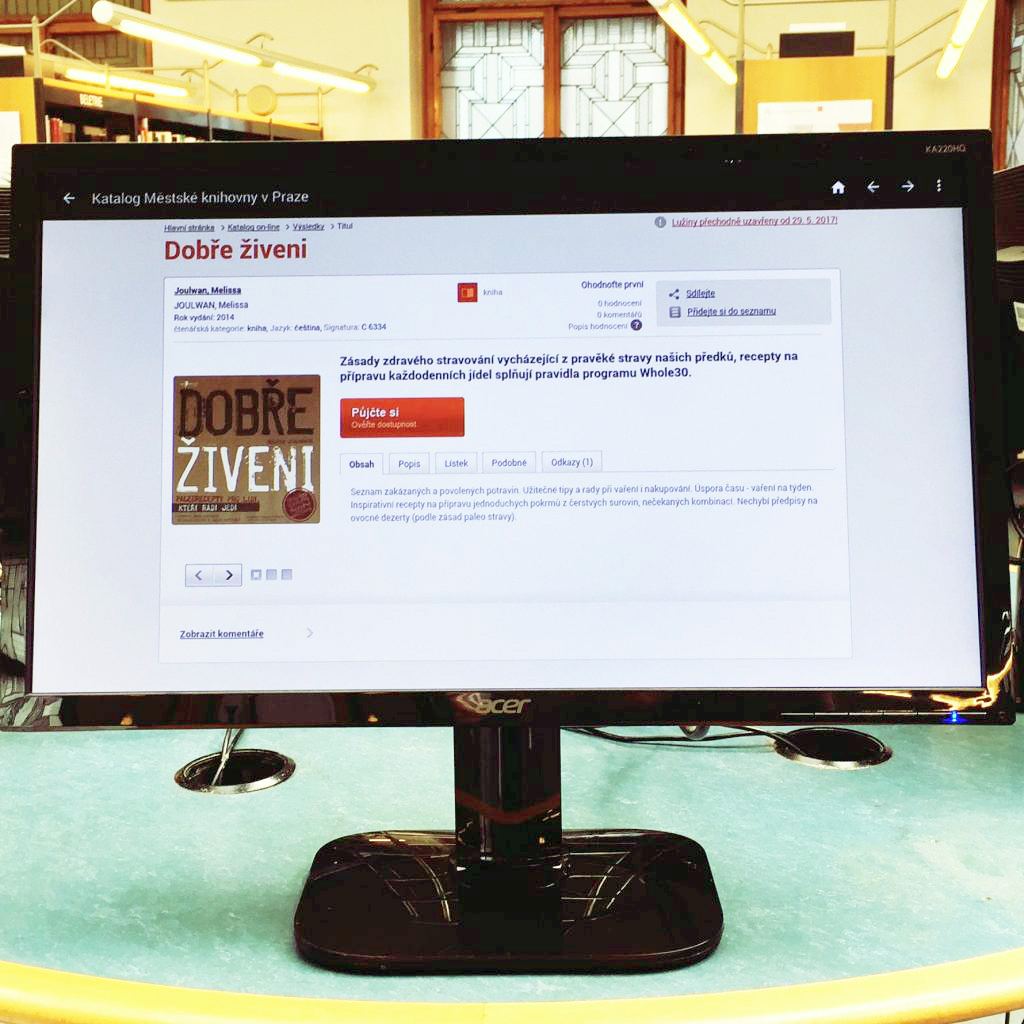 Visitors are welcome to roam the passage ways of the building to take in the architectural elements and endearing book smell. The heavy wooden doors at the end of the main hall are adorned with Prague Castle and they lead to stairs up… to the art exhibition space on the top floor. Stop by to see what's on during your visit. And then be sure to detour down to the basement to peruse the vintage travel posters, take a seat on the old-school wooden benches, or grab a cappuccino at the cafe.

If you go…
For opening hours, visit the Library website.
Municipal Library of Prague - Central Library
Mariánské náměstí 98/1
Praha 1
Czech Republic
Metro A, Tram 17 and 18, or bus 207 (get off at Old Town Square)